Are you ready for the easiest holiday wreath that you'll ever make? This shimmery DIY patriotic wreath is so simple. All you do is wrap and repeat for a gorgeous red, white, and blue wreath to proudly display on your door this summer!
Affiliate links may be used in this post. Ordering a product through these links may result in a commission. Read the full disclosure here.
Check out the written tutorial below!
---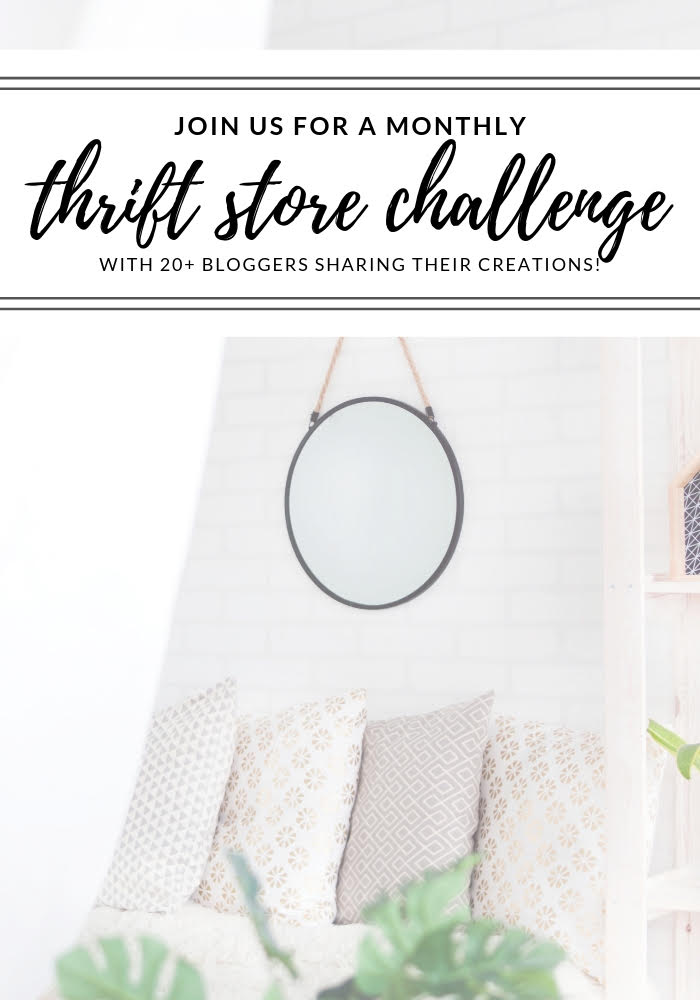 The Rules:
Upcycle an item(s) from a thrift store, resale store, or garage sale into a new piece of decor.

There's no monthly theme.

There's no budget to stick to.
Meet the Hosts
Angela | Simply Beautiful By Angela – Angie | Grandma Creates – Meredith | Southbound Blog – Amanda | Domestically Creative – Molly | Just a Little Creativity – Jenny | Cookies Coffee and Crafts – Michelle | Michelle James Designs – Marie | DIY Adulation – Pili | My Sweet Things – Gail | Purple Hues and Me – Denise| My Thrifty House – Emy | Semigloss Design – Michelle | Our Crafty Mom – Lynne | My Family Thyme – Chas | Chas' Crazy Creations – Kathleen | Our Hopeful Home
Make sure you follow our board on Pinterest for more upcycled decor inspiration!
---
Are you ready for the easiest holiday wreath that you'll ever make? This shimmery DIY patriotic wreath is so simple to and perfect to display on your door!
Click To Tweet
We are back this month with another awesome Thrift Store Upcycle Challenge! I knew I wanted to make some sort of patriotic craft but it wasn't until I was at the thrift store that the idea solidified. If you've ever seen those garland wreaths at your local thrift store and thought, "Ugh, that's hideous" and moved on: Don't!
The garland may be faded and ratty, but that plastic base underneath is pure gold for creating your own gorgeous wreath that actually fits your style. What's even better is that the Dollar Tree always has fun and festive garland for a buck so you can grab the one you want cheaply. It's like the perfect marriage of stylish and budget-friendly decor!
I wanted to take this project a step further without adding a bunch of extra work for myself. That's why I picked up a super fun glittery fireworks bow. It adds that extra bit of flair without adding a ton of time and work to the project, a dream for busy moms like us.
DIY Patriotic Wreath Materials
Thrift Store Garland Wreath with Plastic Base

5 Lengths of Red, White, and Blue Garland (I got mine at the Dollar Tree)

Scissors

Glittery Fireworks Bow (This and the stars below also came from the Dollar Tree)

Glittery Foam Stars

Hot Glue Gun and Glue
Step 1
First, remove the existing garland on your thrift store wreath so that you have an empty wreath base to work with.
Step 2
Next, take your red, white, and blue garland out of the packaging and start attaching it to the wreath base. Wrap one end of garland around a hook on the edge of the wreath base as pictured.
Step 3
Then take your garland down the front of your wreath base and wrap it around the inside hook across from the top hook you wrapped around.
Step 4
Take the garland back up and wrap around the next hook on the edge of the wreath base and continue wrapping back and forth to cover your wreath.
Step 5
After one garland runs out, attach another garland around the same hook where the previous one ran out. Again, continue wrapping on your wreath hooks back and forth.
Step 6
Continue wrapping the garland, adding more as needed, until your entire wreath is covered with garland.
Step 7
Once your wreath is wrapped, remove the packaging from your bow but save the twist tie from the packaging.
Step 8
Use the twist tie to attach your bow to the wreath by poking the twist tie ends through the wreath and secure them in the back.
Step 9
Lastly, glue on the glittery foam stars in sets of 3 at random on your wreath. I used one large star and 2 smaller stars in each group.
Can you believe how freaking easy this shimmery DIY patriotic wreath is to make? It looks so pretty and festive on our door, especially when the sunlight catches it. The next time you're at the thrift store, don't pass up those ugly garland wreaths! Instead stock up for your holidays and create awesome, eye-catching door decor that you'll love.
Don't Forget to Pin It!
---
And now for more thrifty goodness!
Check out what my fellow upcyclers created below!