Is your living room swimming in throw blankets? Now you can wrangle them all in a sweet way with a DIY sprinkles basket! It's totally budget-friendly and a fun way to add some color to your organization.
Affiliate links may be used in this post. Ordering a product through these links may result in a commission. Read the full disclosure here.
Is your living room swimming in throw blankets? Now you can wrangle them all in a sweet way with a DIY sprinkles basket that's totally budget friendly! Click To Tweet
---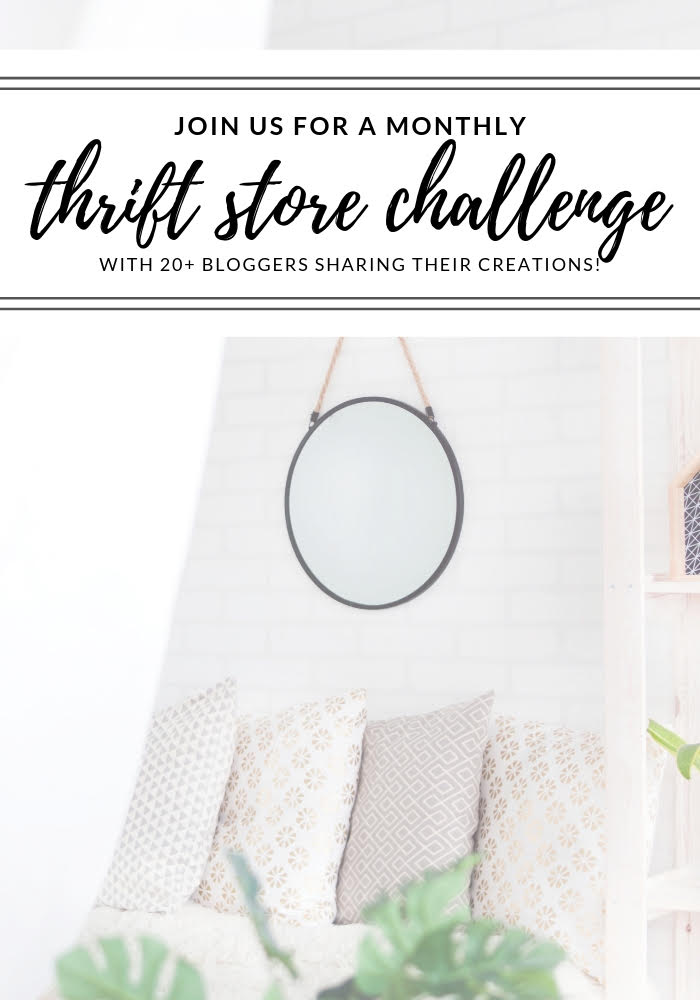 The Rules:
Upcycle an item(s) from a thrift store, resale store, or garage sale into a new piece of decor.

There's no monthly theme.

There's no budget to stick to.
Meet the Hosts
Angela | Simply Beautiful By Angela – Gail | Purple Hues and Me – Carmen | Living Letter Home – Chas | Chas' Crazy Creations – Jenny | Cookies Coffee and Crafts – Pili | My Sweet Things – Kathleen | Our Hopeful Home – Marie | DIY Adulation – Michelle | Our Crafty Mom – Beverly | Across the Blvd – Michelle | Michelle James Designs – Molly | Just a Little Creativity
Make sure you follow our board on Pinterest for more upcycled decor inspiration!
---
I don't know if this happens with your kiddos but I swear mine would rather walk around wrapped in a throw blanket than they would put on appropriate clothes… or any clothes. Even better, they don't even stick to one blanket. Instead by the end of the day my living room looks like a second-hand blanket store. I wanted an easy way to corral all of those blankets every day. If you follow me on Instagram, you also know that I'm totally trying to sneak more color into our decor. Put the 2 together and you get this awesome DIY sprinkles basket to get all of the blankets organized quickly, easily, and in style!
DIY Sprinkles Basket Materials
Large Thrift Store Basket

White Spray Paint (The Kind for Wood Works Best)

Multiple Bright Colors of Acrylic Paint

Small Flat Paint Brush

Clear Acrylic Sealant
Step 1
First, thoroughly clean your basket. This helps the paint stick to it better, plus you really want to store your blankets in a clean basket. If it's especially dusty or dingy, use a soft bristle toothbrush to get the crevices clean.
Step 2
Then place your basket on a protected surface and spray paint the entire basket white. Note:
If you have to do it one side at a time, allow the painted side to dry before turning and painting the second side.
Step 3
Allow the white spray paint to dry completely before moving on.
Step 4
After the paint has dried, pick a bright acrylic paint and paint small rectangles all over the basket.
Step 5
Next, pick a second bright color and, again, paint small rectangles all over the basket.
Step 6
Continue painting different colored triangles until you have the desired amount on your basket. I recommend using at least 3-4 different colors.
Step 7
Then let your acrylic paint dry completely.
Step 8
Lastly, seal your entire basket with a coat of clear acrylic sealant and allow it to dry before using to store your blankets.
I absolutely love this DIY sprinkles basket for blanket organization! There's a really good chance that I'm going to start incorporating candy-themed decor into every part of my house (unless my husband catches me…). Now it's time to check out the rest of the awesome thrift store upcycles this month! Find my friends' projects below!
Don't Forget to Pin It!
And now for more thrifty goodness!
Check out what my fellow upcyclers created below!