Can you imagine an activity that keeps the kiddos entertained for hours with little to no input from you? That's exactly what these DIY beaded pipe cleaner bracelets do! Seriously, put all of the materials into a tray on the dining table and BOOM! You've got the perfect creative activity for them.
Affiliate links may be used in this post. Ordering a product through these links may result in a commission. Read the full disclosure here.
Are you ready for hours of quiet play for your kiddos? These DIY beaded pipe cleaner bracelets are an easy and creative activity for your kiddos!
Click To Tweet
Okay, so I just wanted something fun for the kids to do because, honestly, they were driving me crazy. Then I thought about this awesome activity I'd seen from my friend Heather at Glitter on a Dime. True to form, I changed it up a bit because my kiddos' ages range from 5 to 10 and I wanted all of them to do it.
I put string in addition to pipe cleaners on the tray but to my surprise they all wanted to create with the pipe cleaners. The oldest didn't want any input from me but the youngest 2 had me create the secure ends before they made their designs.
I had only hoped for 20 minutes of peace… seriously, my bar was that low. Instead, this kept all 3 of my kiddos busy for hours! Talk about an awesome surprise. Even better, because they didn't use up all of the materials the first day, they continued to go back and create every day for 3 days.
Beaded Pipe Cleaner Bracelets Materials
Step 1
First, pull out a pipe cleaner and 2 pony beads.
Step 2
Next, slide the pony beads onto the end of the pipe cleaner. Leave a small amount of space between them.
Step 3
Then fold a small end section of pipe cleaner over the pony bead closest to it.
Step 4
Holding the pipe cleaner in place, slide the second pony bead up over the folded piece of pipe cleaner until it is right next to the first pony bead. This creates a secure end of the bracelet to hold the rest of your beads in place.
Step 5
Next, thread on your beads in the desired pattern. Don't worry about the small holes of the shaped beads. The metal part of the pipe cleaner is very small and will fit through them.
Step 6
When you have all of your beads threaded, take the end of the pipe cleaner and thread it through the first secured bead on your pipe cleaner to create a bracelet.
Step 7
Then thread the pipe cleaner end from the opposite direction through the second pony bead you added to your pipe cleaner.
Step 8
Lastly, trim any excess pipe cleaner from your bracelet and enjoy!
Tip:
If the sharp edge of your pipe cleaner is poking your kiddo's wrist when they put it on, wrap the end so that it is between the beads.
If your kiddos love getting creative at all then they will go nuts for these DIY beaded pipe cleaner bracelets! They are such an easy activity to put together and literally buy you hours of peace. Is there anything mom craves more than that in the throws of summer break? I don't think so.
Don't Forget to Pin It!
---
Bring on the Crafts — A Craft & DIY Blog Hop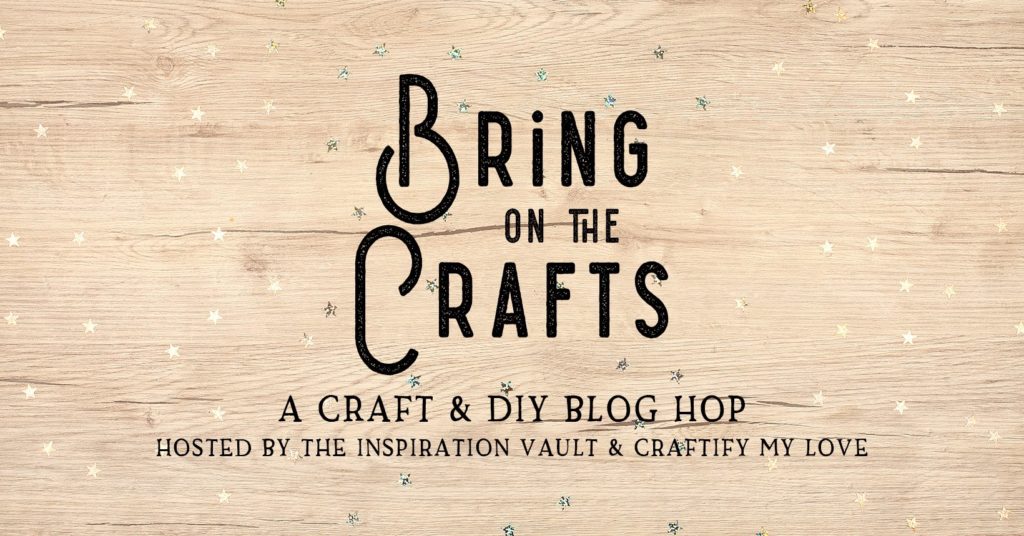 On the first Friday through Sunday of each month, a group of DIY and crafty bloggers join forces. Together Marie from The Inspiration Vault and Habiba from Craftify My Love they bring you the #BringontheCrafts blog hop. Each blogger creates a fun craft or DIY project to share that follows a monthly materials theme. July's theme is Buttons & Beads! Each blogger chooses their own craft to make as long as they love it and it uses Buttons & Beads in the project.
Our July Co-hosts
Jenny at Cookies, Coffee and Crafts • Marie at DIY Adulation •
Beverly at Across the Blvd • Gail at Purple Hues & Me • Kim at Day To Day Adventures
Join in on the fun! If you'd like to participate next month, you can request to join our Bring on the Crafts Facebook Group. Next month's theme is Cutting Machines!
Not a blogger, but a creative mind none the less!? Don't worry, share your awesome creations in our Craft Cult Facebook Group. This is also a great place to ask craft & DIY related questions and find inspiration for your next project.
Now let's see all of those amazing craft and DIY projects!
You are invited to the Inlinkz link party!