Are you utilizing your thrift store finds as awesomely as you could be? There are a ton of great furniture makeovers you can tackle and of course, they're great places to find frames for a myriad of projects. Sometimes, though, it's the little things you're overlooking that can be crazy useful. These colorful upcycled DIY butterfly votive holders prove that.
Affiliate links may be used in this post. Ordering a product through these links may result in a commission. Read the full disclosure here.
---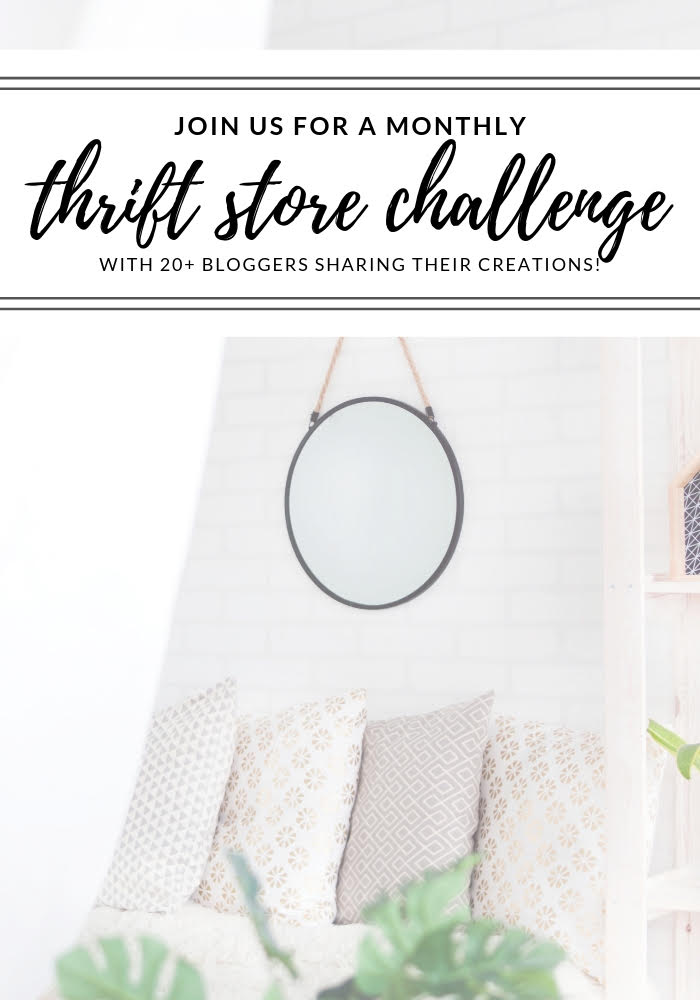 The Rules:
Upcycle an item(s) from a thrift store, resale store, or garage sale into a new piece of decor.

There's no monthly theme.

There's no budget to stick to.
Meet the Hosts
Angela | Simply Beautiful By Angela – Deborah | Salvage Sister & Mister – Angie | Flippin Fanchers – Denise | My Thrifty House –
Jenny | Cookies Coffee and Crafts – Lynne | My Family Thyme –
Meredith | Southbound Blog – Marie | The Inspiration Vault – Gail | Purple Hues and Me – Molly | Just a Little Creativity –
Pili | My Sweet Things – Amanda | Domestically Creative – Ali | Home Crafts By Ali – Carmen | Living Letter Home –
Emy | Semigloss Design – Jeanie | Create and Babble – Marie | DIY Adulation – Heather | Glitter On A Dime
Make sure you follow our board on Pinterest for more upcycled decor inspiration!
---
Glass votive holders at the thrift store are a dime a dozen… okay, maybe more like 25 cents each but still. You know what I mean. I can't count the number of times I've strolled past them without a thought. This time I wanted to challenge myself to spend the smallest amount on my project so I grabbed 3 of these for only 75 cents.
I knew I wanted to do something spring-y but wasn't quite sure what. Then I saw these butterfly stencil masks in my stash and thought they were perfect for spring. Boom! I was ready to start crafting.
It wasn't until after they were made that I realized what a great gift they make and since we're in the process of decluttering right now, why not make something beautiful to give away. Filled with candy and an electronic candle, these are the perfect easy gift for Mother's Day, teacher appreciation gifts, and more!
Filled with candy and an electric candle, these DIY butterfly votive holders are the perfect easy gift for Mother's Day, teacher appreciation, and more!
Click To Tweet
DIY Butterfly Votive Holders Materials
Glass Votive Holders from the thrift store

(Optional) Slanted Tweezers

Sheet Pan
Step 1
First, clean your glass votive holders.
Step 2
Next, place your stencils on a votive holder. I also recommend taping off the edges because it makes it easier to clean edges.
Step 3
After your stencils and tape are in place, fill in the unmasked area with one paint color. Mine needed a couple of back-to-back coats to achieve the bright, vibrant color.
Step 4
Before the paint dries, carefully pull off your tape.
Step 5
Then carefully pull off your stencil masks. This is easier with a pair of slanted tweezers. If you use your fingers, the paint is more likely to smear.
Step 6
After the tape and stencil masks are removed, let the paint dry completely.
Step 7
Repeat steps 2 through 6 for each votive holder. You can use the same stencil masks and color or you can change it up like I did.
Step 8
Once the paint is dry, place your votive holders on a sheet pan and place the pan in a cold oven.
Step 9
Set your oven to 325 degrees Fahrenheit and bake for 30 minutes to set the paint.
Step 10
After 30 minutes, turn the oven off but do not remove the votive holders. Allow them to cool down slowly in the oven.
How to Make the DIY Butterfly Votive Holders Gift
Once your votive holders are made, you can totally keep them for yourself to use as decor. However, they also make a great gift (Mother's Day is around the corner). Oh, and did I mention that they're super easy to make?!
Step 1
Fill your butterfly votive holders with colorful candy.
Step 2
Set an electric tealight candle on top of the candy. You want it to stick up above the top edge of the votive holder.
Step 3
Next, wrap the entire thing with cellophane and secure with a pretty ribbon.
See? I told you it was easy. These colorful upcycled DIY butterfly votive holders are so pretty and easy to make. They're totally budget-friendly too. You can find tons of glass votive holders at the thrift store for a quarter a piece. Done and done, if you ask me. Now it's time to check out what my friends have made for this month's Thrift Store Upcycle Challenge. Take a look and be inspired!
Don't Forget to Pin It!
---
And now for more thrifty goodness!
Check out what my fellow upcyclers created below!