Choosing to pierce your daughter's ears can be a struggle for moms. Some parents choose to do it as a baby and others want their daughters to wait. If you are struggling with this decision for your daughter, here are 5 alternatives to piercing your child's ears to help you decide.
Affiliate links may be used in this post. Ordering a product through these links may result in a commission. Read the full disclosure here.
Here are 5 alternatives to piercing that aren't permanent for your kids! #parenting
Click To Tweet
Social media makes sharing beautiful photos of your kids with friends and family easy. It is fantastic to see them tumbling with toys or passed out in car seats. You also get to share in all the firsts of your friends' and family's little ones.
One of these firsts that you see is baby's first ear piercing. This one incites strong opinions in parents. It is even harder once your daughter is older and her friends have pierced ears that she wants.
I have chosen not to piece my daughter's ears without her consent but that is my choice as her mom. I want her to wait until she is much older to make such a decision. It is equally your choice to choose to pierce your child's ears.
This is not a decision that anyone else can make for your family. However, don't feel that piercing or not piercing are your only options. Here are 5 alternatives to piercing that will still delight your child (and you) without making a permanent decision.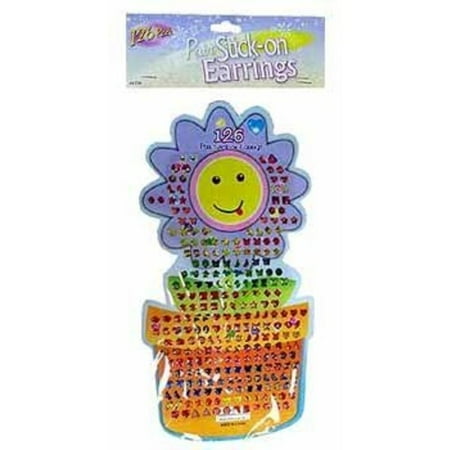 1. Stick-On Earrings
These are fun for kids since they are basically stickers for your body. You can get them in all kinds of styles from Frozen to Flowers and everything in between. They are also a very inexpensive option.
Tip:
When you are using these for special occasions such as weddings or family photos bring extras. They will inevitably fall off and you will need to replace them.
2. Clip-On Earrings
For younger kids the plastic clip-on earrings work best. If you want to prolong the wait to pierce your child's ears you can later move on to the regular metal ones. These have a come a long way since our grandma's wore them. You can find them in trendy designs that your child/teen will love.
3. Temporary Tattoos
The foiled temporary tattoos are perfect for adding a little bit of bling that will last at least through the whole day. These don't actually come as earrings but the larger ones can be cut up and applied in small pieces. This will also make the pack of tattoos last longer.
4. Magnetic Earrings
If you want something a little more realistic looking then magnetic earrings are the way to go. They are a more expensive but are a great options for girls who have outgrown the stickers but aren't quite ready for piercing.
5. Body Paint Pens
Lastly, you can use body paint pens as an alternative to piercing. The great part of using body paint pens is0 they come in a variety of styles and colors. You can get bright and glittery ones or pale and pastel ones. Another perk of these is that they can travel easily in a purse or backpack for quick reapplication.
No one can tell you whether or not you should pierce your child's ears. However, it is important to know that you have options. Now you have 5 alternatives to piercing that aren't permanent. These are also great ideas if your daughter wants to pierce her ears but you don't feel she is old enough to do so.
Mom battles are difficult enough. Give yourself every advantage by having options, information, and tricks up your sleeve. Now I'd love to know your take. What age do you think it's best for kids to get their ears pierced? Let me know in the comments!
Don't Forget to Pin It!
More Ideas You'll Love: